Get started by checking out this video on Boosting Rules
Product Boosting Rules change the way retailers manage products on their site. Instead of telling your ecommerce software where to put items individually, merchandisers create rules based on product attributes and the system dynamically orders products. This approach is simpler, more intuitive and reduces mistakes.
See how product boosting rules interact with other product sorting influences on your site here: How Products Are Arranged
Product Boosting Rules allow you to create rules that will dynamically boost products with certain attributes to the top of your organic results set (after your explicitly promoted products). These rules will continue to stay in affect and re-order your products in real time as their information changes.

Setting up Boost Rules
Let's say that you want this category page to feature Red products, with the highest price products showing up first. Instead of manually finding every red product and dragging them each to the top, the new Product Boosting Rules in Visual Merchandising can do it for you!
You can add up to a maximum of 20 boost rules.
1. Select a Campaign
To begin, either create a new campaign in Visual Merchandising to play around with, or go to an existing campaign.
2. Add a Rule
Open the Boost toolbox on the right.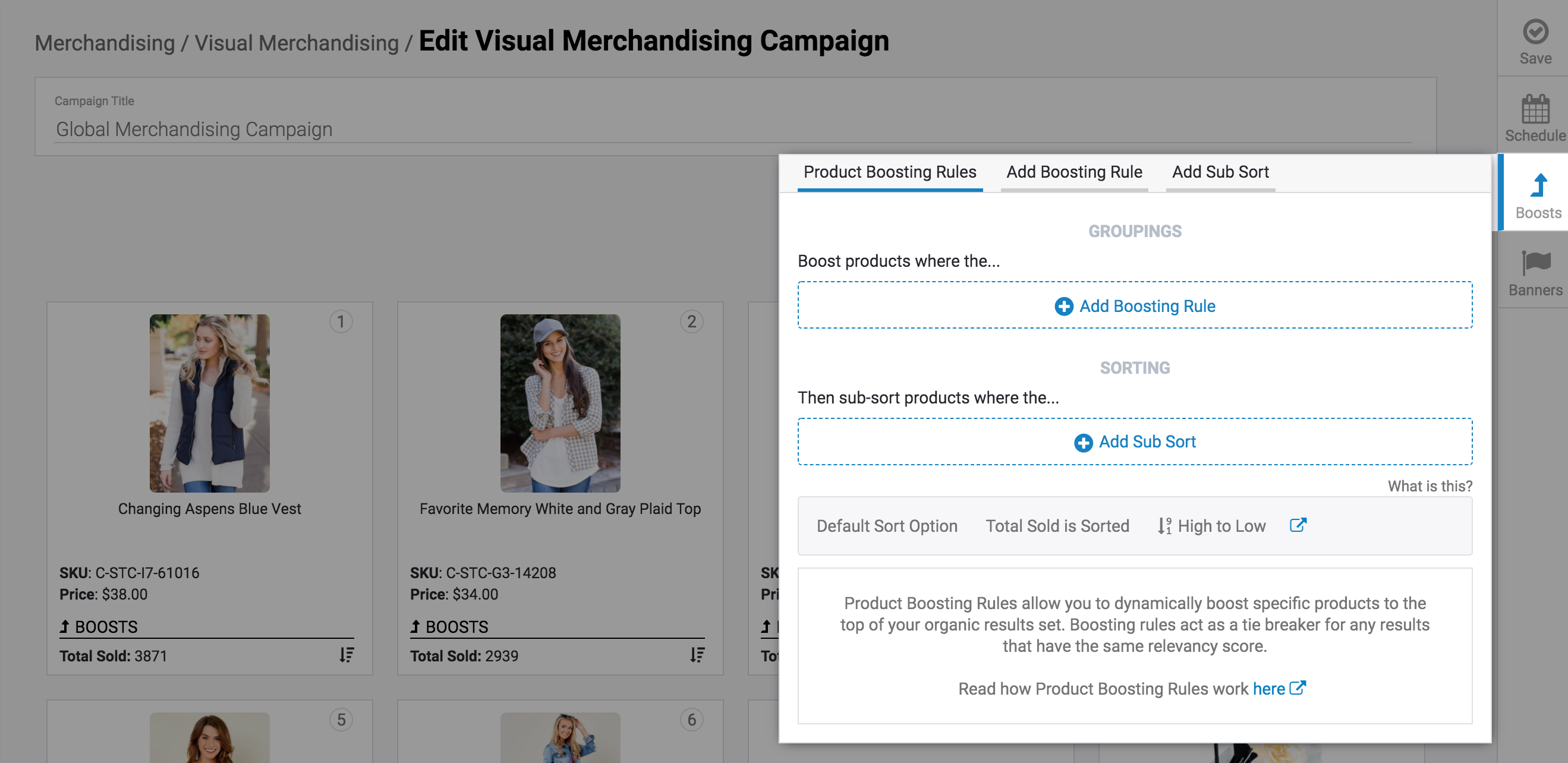 3. Select a Field
4. Select a Boosting Type
5. Select What to Boost
Your boost rule is set!
See how it affects your products
6. Save the Campaign
Click the Save icon at the top of the merchandising toolbar, and click one of the Save options to save your changes.
More Complex Boosting Rule Sets
You can add more boosting rules, delete ones you've made, or re-order them. Remember, the top boosting rule will always be the first priority. Because of the nature of sorting, Sub Sorts always come after any Groupings.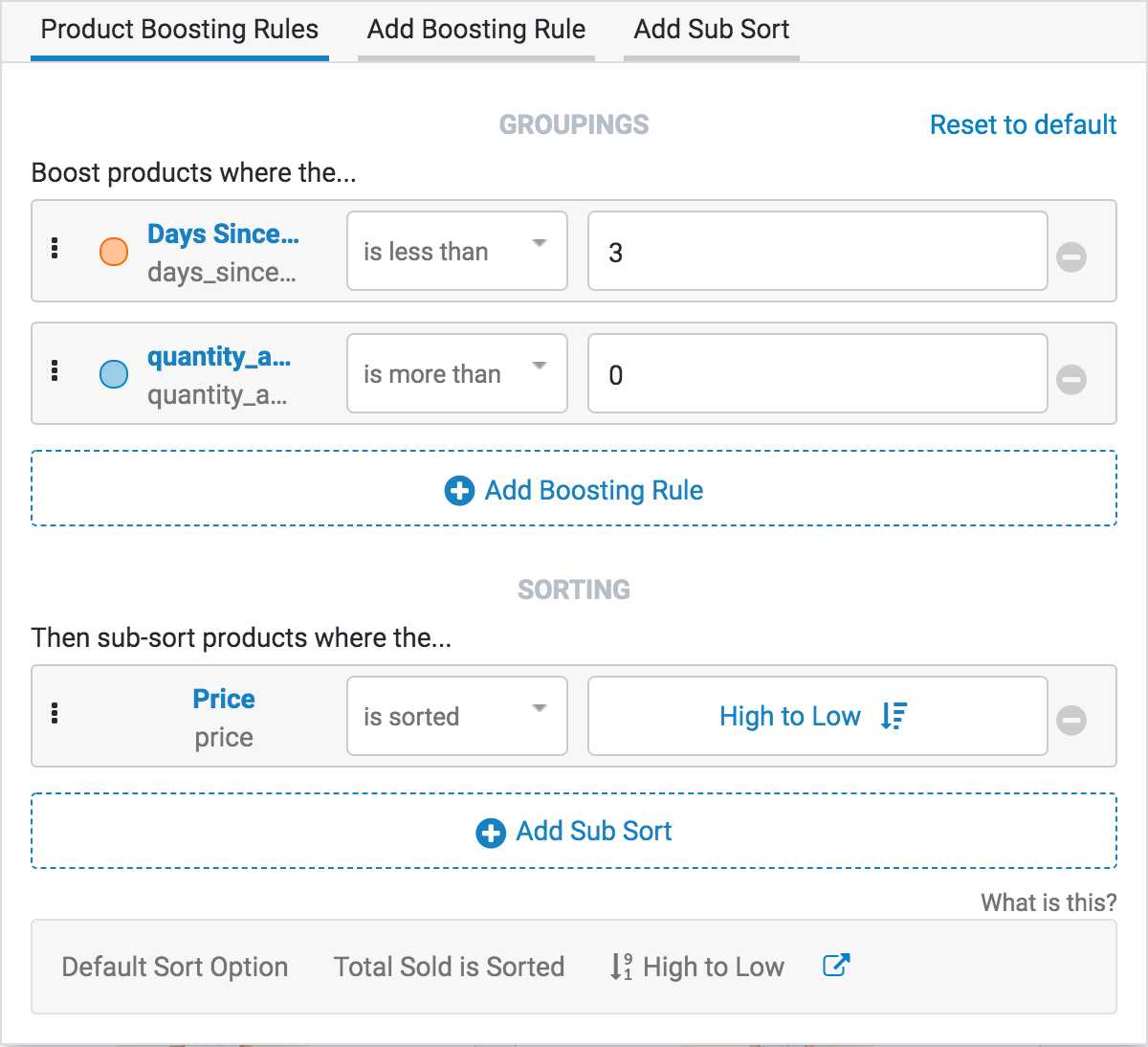 Move or Delete Rules
You can rearrange boost rules by dragging them up or down by the handle on the left of each rule. You can also remove a boost rule by clicking the grey minus icon to the right of a rule.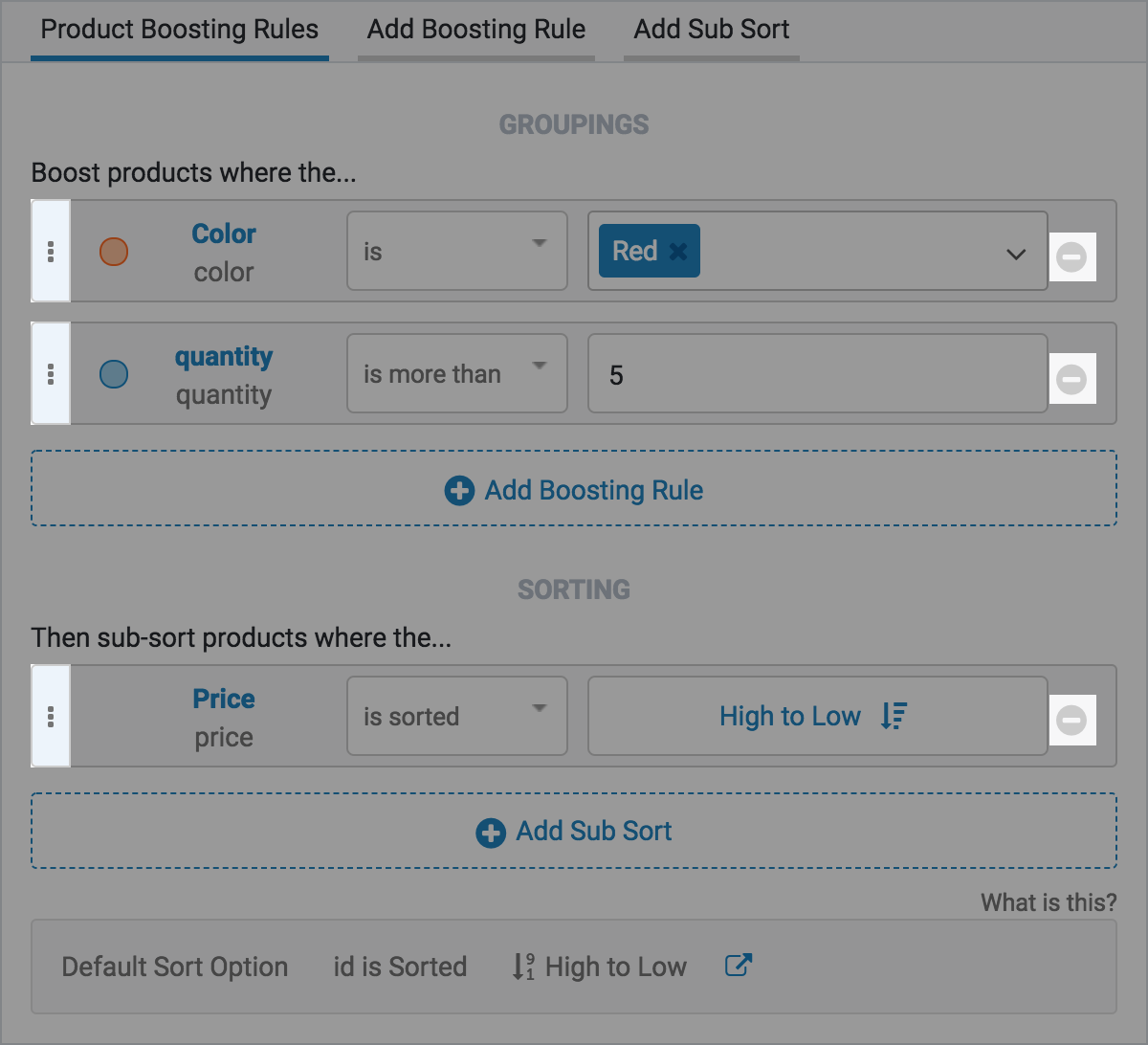 Missing Fields
If you've set a boost rule in the past and the field its using (such as "promo_price") no longer exists in your products, the rule will still appear as a greyed out version that is inactive. If the data comes back later, the rule will resume being active. You can still remove and rearrange disabled rules.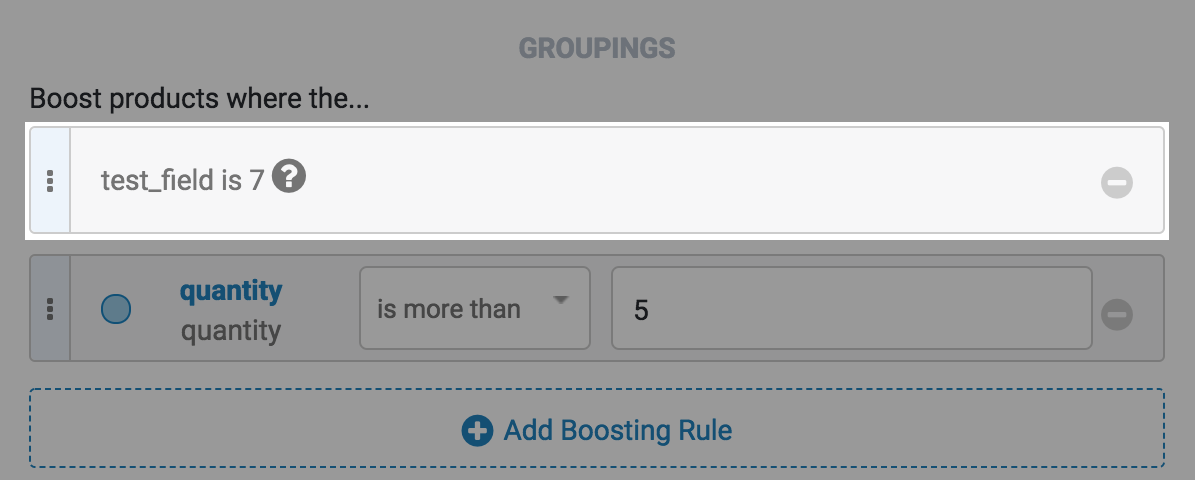 Global vs. Normal Boosts
If you have boosts set up on a global campaign, then those boost rules will apply across your entire site until overridden by custom boosts on a more specific campaign.
If you haven't set custom boosts on any normal campaign, you will see this message letting you know that this page will be using the global boosts.
You can make custom boost rules for this page (overriding the global boosts) by changing any boosts in this toolbox. If you'd like it to fall back to using your global boosts again, simply click "Reset to default".

You cannot override global boost rules with nothing. If you attempt to remove all boost, you will be required to either Reset to default (using the global boosts), or add custom boost rules(s) to this campaign.