Overview
On September 12th, 2023, we deprecated the following email addresses, support@searchspring.com and support@searchspring.net. What this means is, you will no longer be able to reach support via email.


Starting from September 12th, any new tickets submitted through email will automatically be closed. You will receive an auto-response containing instructions on how to submit a ticket through the proper support channel.


To ensure a seamless support experience, we encourage you to create a Searchspring Help Desk account for all your future support requests. Here are the advantages of creating an account and submitting tickets via our Help Desk,
Enhanced Ticket Tracking: You can easily track the status and progress of your support requests, providing you with greater visibility into the resolution process.
Centralized Communication: All support-related communications are centralized in one place, preventing any information from getting lost or misplaced in email threads.
Improved Customer Experience: By utilizing our Help Desk, we can better understand your support needs, enabling us to offer more personalized and tailored assistance, and enhancing your overall customer experience.
Enabling Self-Service Resources: In the coming months our goal is to bolster our knowledge base and self-service resources, empowering you to find quick answers to common questions or issues.


Step 1 - Access the Searchspring Help Desk Sign Up Page
To create a Searchspring Help Desk account, follow the step-by-step guide below:
Launch your web browser and navigate to Searchspring's Help Desk website at

https://help.searchspring.net

On the top right corner, click on the "Sign in" link. This will redirect you to the account sign-in page.



Click on the link "Sign up"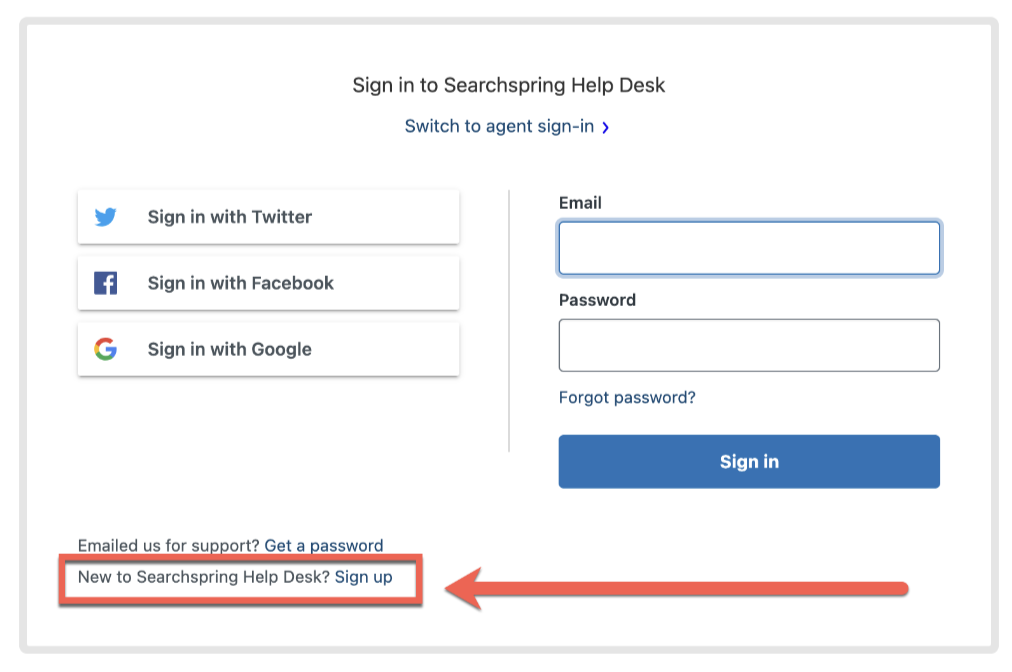 Step 2 - Create your account
On the account creation page, enter your full name in the appropriate field. This name will be displayed on your Searcspring Help Desk profile and any communication with our Support team.
2. Enter your valid email address in the designated field. Ensure that the email address you provide is active and accessible, as Searchspring's Help Desk will send a verification email to this address.


*Important Step for Previous Email Channel Users. For those who have previously submitted tickets through email and haven't created a Searchspring Help Desk account yet, we highly recommend using the same email address for your ticket submissions. By doing this, you will gain access to view both your current and past tickets conveniently.


Step 3 - Verify Your Email Address
Check your inbox for an email from Seachspring's Help Desk. If you don't see it in your inbox, make sure to check your spam or junk folder.
Open the email and click on the link provided to create your password. You will be prompted to set a password to your Searchspring Help Desk account.
*Important Step for Previous Email Channel Users. After receiving the email message, you will receive a notification that an account already exists for Searchspring Help Desk based on the email address that was initially used to submit tickets through email. To proceed, you will click on "reset your password," and during this process, you will be prompted to set a password for your Searchspring Help Desk account.
Step 4: Start Using Your Seachspring Help Desk Account

After successfully creating your account and logging in, you can submit a request, and manage your tickets under your user account profile, "My activities".
You will see the tickets you have submitted under the "My requests" tab. The tickets that you are also CC'd on, they will appear under the "Requests I'm CC'd on" tab.
*Make sure you're logged in by checking for your profile name in the top right corner. This ensures your tickets are linked to your user account.



3. When you need to follow up on a closed ticket, it's best to do so within the ticket itself. You can check if the ticket has been marked as "Closed" by referring to the message shown in the screenshot below. Avoid responding on a closed ticket via email, as this action will result in the automatic closure of the ticket when the system tries to generate a new one using the deprecated email address.


Otherwise, if the issue has been resolved and there's a text box available for comments within the ticket, this means you can still respond and the ticket will reopen instead of creating a follow-up.