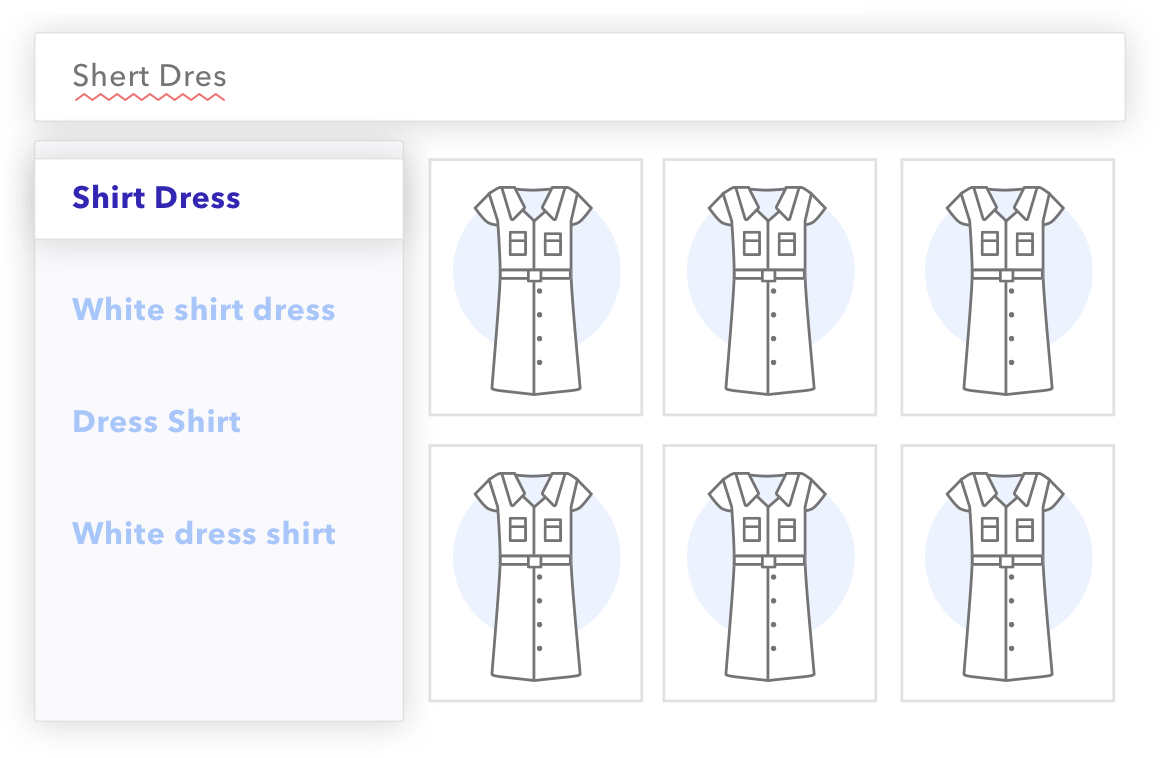 Instant, intelligent, and always-learning spell correction is offered as a piece of AutoComplete. This helps aid shoppers in real-time to close gaps in their journey, thereby reducing frustrated exits from your site and further guiding them towards conversion.
What is it?
When a shopper enters search query that is more than 3 characters in length, we run their text through our Spelling Correction Algorithm known as the Search API. The Search API processes the text and provides suggested search queries back to the shopper.
There are two versions of Spell Correction – Fixed Spell Correction and Integrated Spell Correction. While both versions use the Search API, the main difference in functionality occurs when the search form is submitted.
Fixed Spell Correction is the older version of Spell Correction. It relies on the English Dictionary as the source of truth to determine whether a term is spelled correctly, which may not capture unique data in your product catalog such as brand names or SKUs. Reliance on the English Dictionary may generate low quality corrections. As an example, the system will not recognize the word "Nike" and may attempt to correct away from it.
With Fixed Spell Correction, a shopper's search term can be corrected before a search is attempted. If a shopper enters a term that generates a match in the English Dictionary, they will see results for the term that they entered. However, if a match is not found, the term is automatically corrected, and a search is then completed for the corrected term. This may be problematic in the case of synonyms. If a shopper misspells a term and a synonym is set up for that misspelled term, it will still be corrected, and a search will be completed for the corrected term. In this scenario, the synonym is not given an opportunity to replace the misspelled word.
Integrated Spell Correction reduces Zero Result Searches and increases the number of Spelling Corrections by rerouting shoppers to more useful pages. This is done in a few ways. First, Integrated Spell Correction returns more relevant corrections because it relies on the product catalog to correct misspelled terms. This significantly improves corrections for terms with different spacing configurations. As an example, let's say a shopper searches for "ripcurl" and your product catalog includes data for "Rip Curl". Fixed Spell Correction will look to the English Dictionary and may correct away from the term, while Integrated Spell Correction looks to the product catalog and can recognize "Rip Curl" as a relevant correction.
With Integrated Spell Correction, we also conduct a search before correcting a term. This means that we first search for whatever the user has typed in the search form, regardless of whether it has a match in the product catalog. If no results are found, then the system will display results for a corrected term.
Integrated Spell Correction further empowers merchandisers with a Spell Correction Blocklist that can be used to block terms from being corrected. The Spell Correction Blocklist should be used when you want shoppers to be redirected to a zero results page for a given search term. Brands are a great candidate for the blocklist. If you notice that shoppers are searching for a brand that you do not carry, you can add that term to the blocklist. This way, shoppers that search for that brand will intentionally be directed to a Zero Results Page to demonstrate that you clearly do not carry that brand.
| | | |
| --- | --- | --- |
| | Fixed Spell Correction | Integrated Spell Correction |
| Shoppers can search with their raw query | ✕ | ✓ |
| Spell Correction Blocklist | ✕ | ✓ |
| Uses Product Catalog | ✕ | ✓ |
| Uses Term Suggester | ✓ | ✓ |
| Reporting | ✓ | ✓ |