Indexing is the process of importing your store's product and category data into Searchspring for displaying on your site. In order for you to get the most out of Searchspring's powerful search and filtering, we regularly index your site to keep your product and category data up to date.

Index History
At the bottom of the page you can see a chart of your most recent sync-ups. The dark blue bar indicates how many products were in your original feed, while the light blue indicates how many products were actually saved on Searchspring's side. These can be different due to any intentional filters you may have had set up with Searchspring, such as excluding products marked "Hidden" in your cart, or excluding out of stock products.

Last Index Completed at
This date will show you how recently your products are up to date and searchable with Searchspring.

Next Index Scheduled to Start at
Data syncing runs on a schedule, and this date lets you know the next time we'll scan your products to get an up-to-date copy.

If you'd like to change the schedule for updating your products on Searchspring, you can click the "Edit" button.

Update Index
If you have made a recent change to your products that is urgent and cannot wait until the next time your index automatically runs, you can click the Update Index button at the bottom.

You do not need to remain on this page (or in the management console at all) to wait for it to complete. In fact, you can get a quick glimpse of the general status next to the Index Status page link in the top right navigation at any time.

Indexing Statuses
Directly under "Current Index Status" there are several graphics that help visualize the current stage of data syncing from your store to Searchspring.
Waiting on Feed Generation
If your setup uses a regenerator to fetch and format data from your store, you'll first see this status indicating we've asked the regenerator to fetch the data.

Generating Feed
Once the regenerator tells us that it's actively working on fetching, formatting, and sending us the data feed, you'll see this status.

Regeneration Error
If the regenerator runs into a problem, it will alert you with the details here. If you're unsure what to do, feel free to contact Searchspring Help Desk for us to aid you with your issue.

In Queue
Searchspring has multiple indexers processing multiple sites at the same time. If your product data is waiting for one of our indexers to be done processing another site, you'll see this Queue status. Typically this doesn't last more than a minute, and most often only lasts under a few seconds.

Indexing
This is where the magic happens. You'll see the Indexer status highlighted when Searchspring is actively processing your store's products, synonyms, merchandising campaigns, special data manipulations, and more into our data store for quick and powerful access to be searched by your customers.

Complete
Once the sync-up is complete, the Complete status shows. Your Searchspring info is up to date and ready to roll.

Success Email
If you manually requested the sync, or if you have email notifications enabled on the My Account page, you will receive an email like this upon completion. This is handy if you do not want to continue monitoring the index status page itself.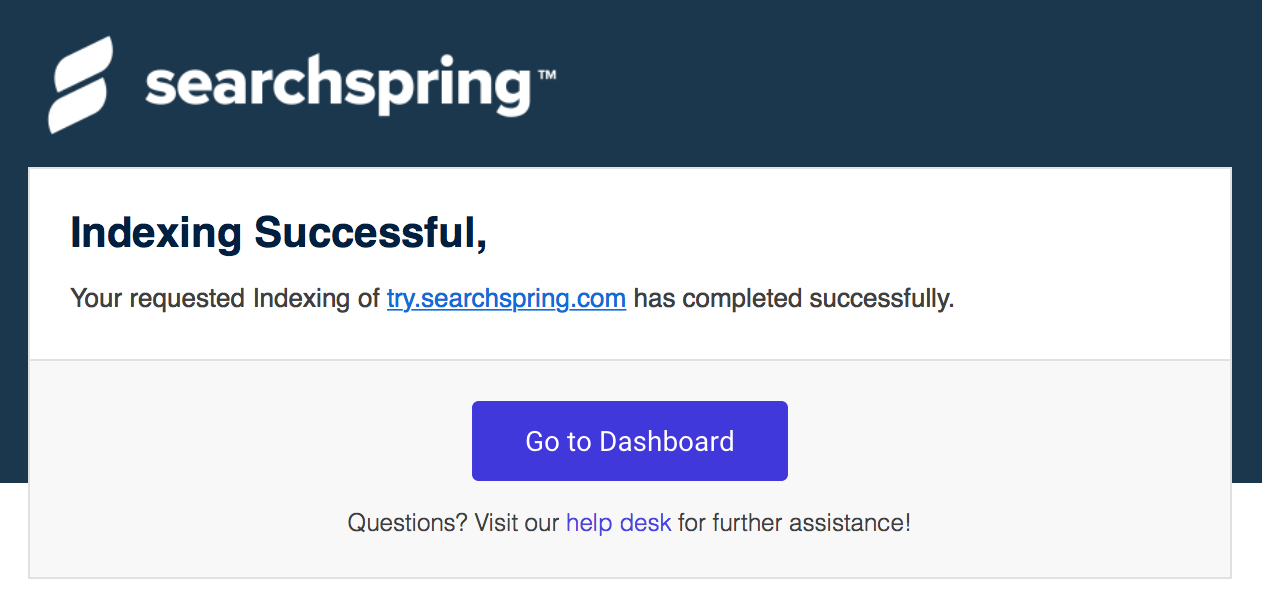 Indexing Error
If the indexing process runs into a problem, it will alert you here with the details. If you're unsure what to do, feel free to contact Searchspring Hekp Desk for us to aid you with your issue.